Testimonials
"Trish did an excellent job in all aspects of the process, from helping us find the area that suited us best, to guiding us through the various phases of the purchase. Throughout the entire process, she was exceptionally kind, professional, and supportive.


"Trish is a wonderful person to work with, and has our highest recommendation to anyone considering buying or selling a home." Gregg and Jayne O.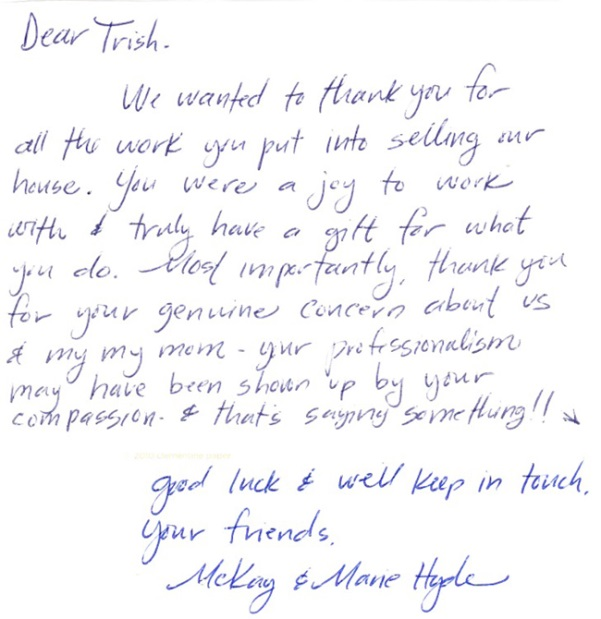 "Our real estate transaction went smoothly. She was very organized, efficient, and always was in touch with us. Most important -- she always looked out for our best interests." Jackie & Sean G


"You combined professionalism with being prompt, thorough and sensitive to our needs." Arvind and Anuradha R.


"Like a concierge service." Jeff & Holly Palker.


"Trish is a very knowledgeable, caring, understanding, insightful and dedicated person. She gives 150% of herself." Chandra Lall.


"Based on a friend's recommendation we signed with Trish and are we delighted we did. Trish had a definite strategy to sell the house. Trish understands this difficult market. I strongly recommend Trish to anyone who is buying or selling a home. You will have an experienced pro at your side." Chip Isaac.