Fluctuations in inventory affect home prices – October 11th 2013
By Alan Richman
Special to The Star-Ledger.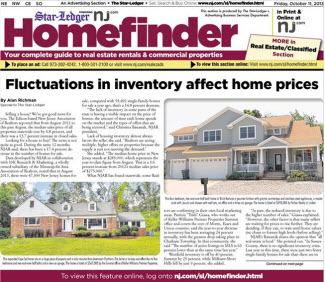 Selling a house? We've got good news for you. The Edison-based New Jersey Association of Realtors reported that from August 2012 to this past August, the median sales price of all propeties statewide rose by 6.8 percent, and there was a 13.7 percent increase in closed sales.
Looking for a house to buy? The news is quite as good. During the same 12 months, NJAR said, there has been a 17.4 percent decrease in the number of homes for sale.
Data developed by NJAR in collaboration with 10K Research & Marketing, a wholly owned subsidiary of the Minneapolis Area Association of Realtors, noted that in August 2013, there were 47,300 New Jersey homes for sale, compared with 55,492 single-family homes for sale a year ago; that's a 14.8 percent decrease
" The lack of inventory in some parts of the state is having a visible impact on the price of homes, the amount of time each home spends on the market and the types of offers that are being received," said Christina Banasiak, NJAR president.
Lack of housing inventory almost always favors the seller, she said. "Realtors are seeing multiple, higher offers on properties because the supply is just not meeting the demand".
She added "The median home price in New Jersey stands at $285,000, which represents the year-to-date figure from August. That is a 3.6 percent increase from 2012's median sales price of $275,000."
What NJAR has found statewide some realtors are confirming in their own local marketing areas. Patrizia "Trish" Giassa, who works out of Keller Williams Premier Properties Summit office and covers the core of Morris, Essex and Union counties, said the year-to-year decrease in inventory has been averaging 24 percent annually, with the greatest drop taking place in Chatham Township. In that community, she said "The number of active listings in MLS is 63 percent lower than at the same time last year."
Westfield inventory is off by 40 percent, Summit by 29 percent, while Milburn-Short Hills fell by just 9 percent, she added. "In part, the reduced inventory is due to the higher number of sales," Giassa explained. "However, the other factor is that many sellers are waiting for prices to rise further. They are deciding, if they can, to wait until home values rise closer to former high levels (before selling)." NJAR's Banasiaks shares the opinion that "all real estate is local." She pointed out, "In Sussex County, there is no significant inventory crisis.