Considered a sure thing, cash deals still king – September 13th 2013

By Lori Crowell
Special to The Star-Ledger.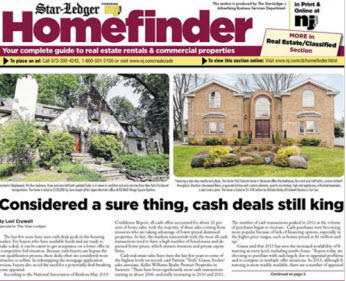 The last few years have seen cash deals peak in the housing market. For buyers who have available funds and are ready to make a deal, it can be easier to get acceptance on a lower offer in a competitive bid situation. Because w cash buyers can bypass the loan qualification process, these deals often are considered more attractive to sellers. In sidestepping the mortgage application process, buyers also avoid the need for a potentially deal-breaking home appraisal.
According to the National Association of Realtors May 2013 Confidence Report, all-cash offers accounted for about 32 percent of home sales, with the majority of these sales coming from investors who are taking advantages of lower-priced distressed properties. In fact, markets nationwide with the most all-cash transactions tend to have high number of foreclosures and depressed home prices, which attracts investors and private equity firms.
Cash real estate sales have risen the last few years to some of the highest levels on record, said Patrizia "Trish" Giassa, broker/sales associate, Keller Williams Realty Premiere Properties in Summit. "There have been significantly more cash transactions stating in about 2006, and really increased in 2010 and 2011.
The number of cash transactions peaked in 2012 as the volume of purchases began to increase. Cash purchases were becoming more popular because of lack of financing options, especially in the higher price ranges, such as homes priced at $1 million and up."
Giassa said that 2013 has seen the increased availability of financing at every level, including jumbo loans. "Buyers today are choosing to purchase with cash largely due to appraisal problems and to compete in multiple offer situations. In 2013, although financing is more readily available, there are a number of Appraisal.