Buyers drawn to carefree lifestyle – September 6th, 2013

By Lori Crowell
Special to The Star-Ledger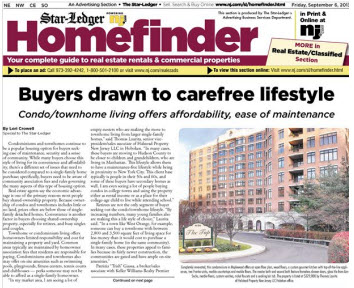 Condominium and townhouses continue to be a popular housing option for buyers seeking ease of maintenance, security and a sense of community. While many buyers choose this style of living for its convenience and affordability, there's a different set of issues that need to be considered compared to a single-family home purchase; specifically, buyers need to be aware of community association fees and rules governing the many aspects of this type of housing option.
Real estate agents say the economic advantage is one of the primary reasons most people buy shared-ownership property. Because ownership of condos and townhomes includes little or no land, prices often are below those of single family detached homes. Convenience is another factor in buyers choosing shared-ownership property, especially for retirees, and busy singles and couples.
Townhome or condominium living offers homeowners limited responsibility and cost for maintaining a property and yard. Common areas typically are maintained by homeowner association fees that residents are responsible for paying. Condominiums and townhomes also may offer on-site amenities such as swimming pools, playgrounds, fitness centers, tennis courts and clubhouses. Perks someone may not be able to afford as a single-family homeowner.
"In my market area, I am seeing a lot of empty –nesters who are making the move to townhome living from larger single-family homes," said Thomas Laurita, senior vice-president/sales associate of Halstead Property New Jersey LLC in Hoboken. "In many cases, these buyers are moving to Hudson County to be closer to children and grandchildren, who are living in Manhattan. This lifestyle allows them to have a maintenance-free lifestyle while being in proximity to New York City. This client base typically is people in their 50s and 60s, and some of these buyers have secondary homes as well. I am even seeing a lot of people buying condos in college towns and using the property either as rentals income or as a place for their college-age child to live while attending school."
Retirees are not the only segment of buyer seeking out the condo/townhome lifestyle. "By increasing numbers, many young families also are making this a life style of choice," Laurita Said. "In a town like West orange, for example, someone can buy a townhome with between 2,800 and 3,500 square feet of living space for less money than it would cost to purchase a single-family home (in the same community). In many cases, these properties appeal to families because its fairly newer constructions, the communities are gated and have ample on-site amenities." Patrizia "Trish" Giassa, broker/sales associate with Keller Williams Realty Premier.