Reasons vary, but homebuyers remain upbeat – August 9th, 2013

Keller Williams Realty Premier Properties, who specializes in Chatham, Madison, Summit and Short Hills.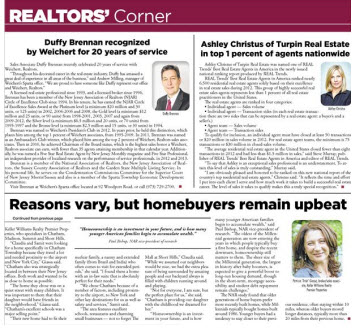 "Claudia and Samit were looking for a home specifically in Chatham Township because they travel a lot and needed proximity to the airport and New York City," Giassa said.
"Chatham also was strategically located in between their New Jersey offices. Both work and wanted to be as close to home as possible.
"The home they chose was on a quiet street with many children. It was important to them that their daughter would have friends in the neighborhood," Giassa said.
"Chatham's excellent schools were a major selling point."
"Their new home had to fit their nuclear family, a nanny and extended family (from Brazil and India) who often comes to visit for extended periods," she said. "I found them a home with an in-law suite that is absolutely perfect for their needs."
"We chose Chatham because of a number of factors, including proximity to the airport, to New York and other key destination for us as well as safety and services," Samit said.
"The area features excellent schools, restaurants and charming small businesses- not to forget The Mall at Short Hills," Claudia Said.
"While we assumed our neighbors would be nice, we had the extra pleasure of being surrounded by amazing people and our backyard always is filled with children running around and playing.
"Not for everyone, I am sure, but the perfect place for us," she said.
"Chatham is providing our daughter with the childhood we dreamed for her."
"Homeownership is an investment in your future, and is how many younger American families begin to accumulate wealth," said Paul Bishop, NAR vice-president of research. "The oldest of the millennial generation are now entering the years in which people typically buy a first home, and despite the recent downturn, homeownership still matters to them. The sheer size of the millennial generation, the largest in history after baby boomers, is expected to give a powerful boost to long-run housing demand, though in the short-term, mortgage accessibility and student debt repayment remains challenges."
The NAR study found that older generations of home buyers prefer more recently built homes, while milennielas typically bought homes built around 1986. Younger buyers had a tendency to stay closer to their previous residence, often staying within 10 miles, whereas older buyers moved longer distances, typically more than 20 miles from their previous home.